Visit Us in Leander
At Pendleton Orthodontics, we believe your orthodontic office should be friendly, flexible, and convenient.
Trusted Orthodontics in Leander
We proudly serve patients of all ages from Leander and the surrounding communities.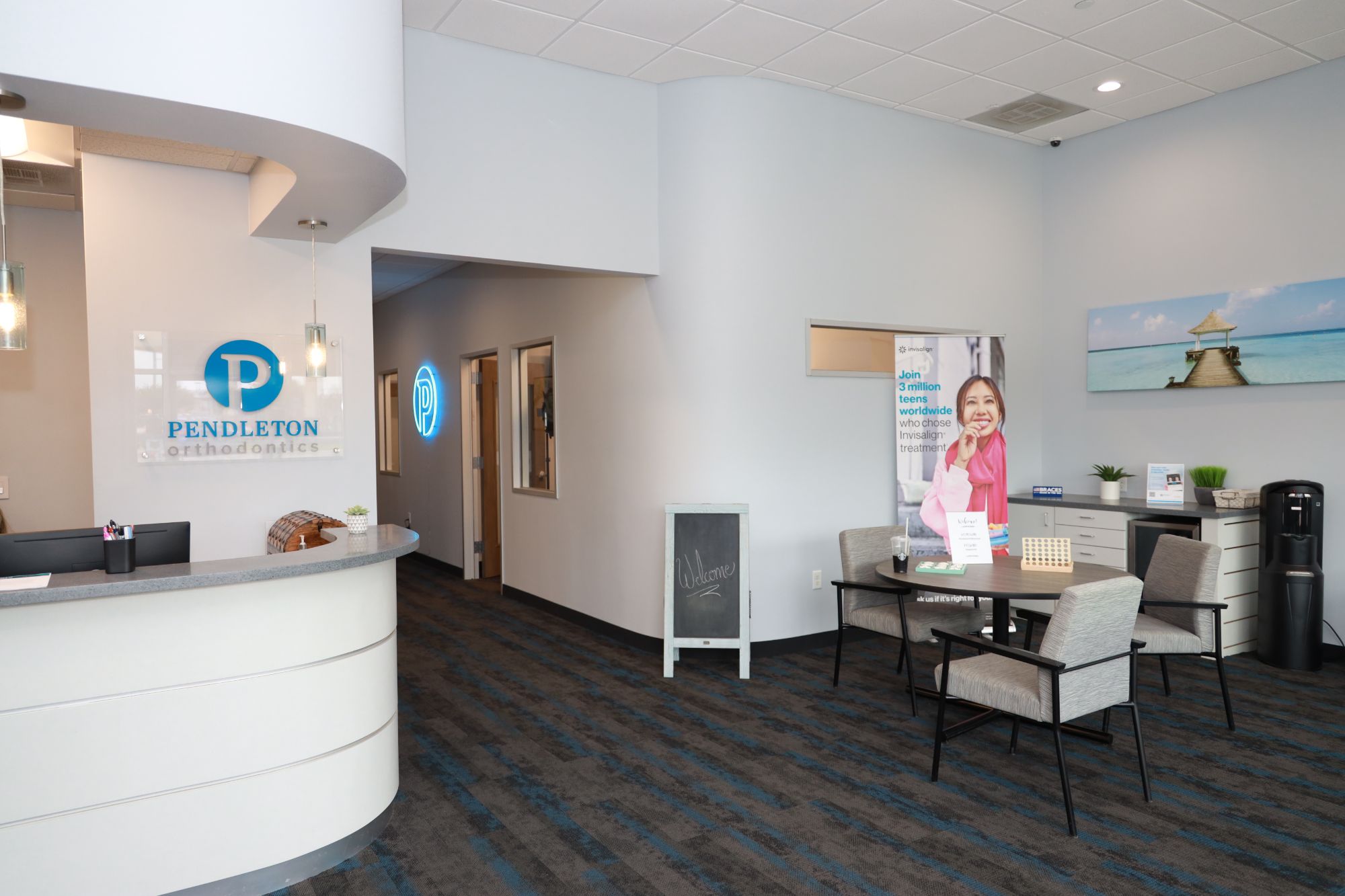 Friendly
When you contact our office, we'll treat you like family. Our team goes above and beyond to make you feel comfortable and welcomed.
Convenient
Our Leander office is conveniently located so that great orthodontic care is always within reach.
Flexible
We aim to make the most of your visit, keep our appointment running on time, and complete your treatment in fewer visits.
Extremely Impressed

"The office team is wonderful, and the consultation with Dr. Pendleton was thorough. They are very patient and kind and take their time to answer questions.

We have been extremely impressed, and my kids connected with the entire team."

Erin M.
Calm, Gentle, & Easygoing

"Dr. Pendleton and his team are excellent. We've been working with them for 11 months, and the treatment process has been calm, gentle, and easygoing.

My daughter feels safe and well cared for, and I always know what's going on with her treatment. I 100% recommend Pendleton Orthodontics!"

Allison F.
Wonderful Team

"Dr. Pendleton and his team are wonderful! They explained every part of the treatment and answered my questions and concerns. I felt very comfortable and well informed during my braces treatment!"

Annamarie R.
A Trusted Orthodontist in Leander
Dr. Ryan Pendleton grew up in Northridge, California. He completed his Bachelor of Science in sports medicine with high honors at Pepperdine University in Malibu, California.
Following his undergraduate degree, he attended the University of California, Los Angeles (UCLA) for his Doctor of Dental Surgery degree and graduated in 2004. He promptly entered a residency program after dental school to earn his certificate in orthodontics from the University of Pittsburgh School of Dental Medicine.
Over the last decade, Dr. Pendleton has practiced in various settings with different practitioners and worked with many treatment modalities to develop a particular set of skills to treat his patients.
He routinely attends continuing education courses and diligently stays up to date in the field of orthodontics to maintain the highest standard of care for all his patients.
Dr. Pendleton treats many orthodontic concerns such as bite, tooth alignment, temporomandibular joint (TMJ) disorders, and sleep apnea.
Dr. Pendleton offers many dental solutions, including braces, Invisalign®, surgical orthodontics, retainers, TADS, and other orthodontic devices.
When Dr. Pendleton is not working, he enjoys spending time with his wife, Keri, their daughter, Eva, and their Labrador retriever, Ruby.
He also enjoys playing the drums, disc golf, tennis, and watching live music and NFL football. To make an appointment with Dr. Pendleton, call the office in Leander, Texas, or request your visit online today.
Leander Invisalign
Invisalign is incredibly popular with patients and orthodontists in Leander and is the top alternative to traditional braces. Instead of brackets and bands, the Invisalign system uses a series of clear, removable aligners to straighten your teeth gradually.
Invisalign aligners are made of a comfortable plastic material and customized to fit snugly over your teeth. To keep your teeth moving in the direction you want, you'll need to switch your invisible trays out for the next one in the series every one to two weeks, as directed by Dr. Pendleton.
The Invisalign system can only work if you follow the guidelines from Dr. Pendleton. You should wear your aligners for 20 to 22 hours per day during treatment. If you neglect to wear the aligners as directed, it can impede the results and add time to the orthodontic process.
Invisalign is most efficient when correcting many common orthodontic issues, but it may not be right for more severe issues. A free consultation with Dr. Pendleton at Pendleton Orthodontics in Leander will allow us to determine your eligibility for Invisalign.
Leander Braces
Braces with Pendleton Orthodontics in Leander are an excellent choice for correcting complex tooth issues. Braces can sometimes work faster to align teeth and close gaps than other treatments, reducing your overall treatment time.
Braces don't require some of the more complex technology or expensive equipment that newer treatments can, meaning Leander braces are a cost-effective orthodontic option.
Traditional metal braces are one of the most efficient orthodontic tools at Pendleton Orthodontics. They're made of metal or ceramic brackets affixed to the teeth, then connected by wires and tiny rubber bands or elastics.
These brackets, wires, and bands work together to apply the gentle pressure that will gradually move the teeth into the positions we want them to be in as long as you have regular adjustments with Dr. Pendleton.
Leander Braces & Invisalign: Find Your Perfect Fit
Dr. Pendleton has years of experience creating customized treatment plans for patients of all ages.
When you visit our office in Leander for a free consultation, our talented team will pay special attention to your particular orthodontic needs, tooth shape, lip movement, and face shape.
We'll use these as the basis for your braces or Invisalign treatment plan to create a beautifully aligned smile that's perfect for you. To learn more about our Leander orthodontic treatment with Dr. Pendleton, schedule your free consultation with Pendleton Orthodontics.